— Anh NGUYEN
Today, it is quite unimaginable for Europeans to skip on chocolate, nor coffee or tea, or sugar, pepper, bananas, avocados…these "exotic" products and flavors that cannot be planted in a temperate climate but have become a sort of staple in Europe since 18th century.
Yet these délices, like most of our modern indulgencies, do come with a price.
The hidden monstrosity of global shipping
Global shipping accounts for 10,6% of total global C02 emissions – almost equal to that emitted by aviation (both for passenger and freight flights), which is being criticised upfront on a way more regular basis – while global shipping is hidden behind the scene.
Global shipping includes different techniques with different levels of environment impact.
This means, for Europeans & North Americans, please don't eat mangos and dragon fruits and passion fruits and lychees and pineapples and the like, which have flown 10 000+ km to be on your plate.
And for their sub-tropical and tropical Asian counterparts, please stop worshiping berries and grapes and walnuts imported by air freight – as if you don't already have the world's richest fruit palette.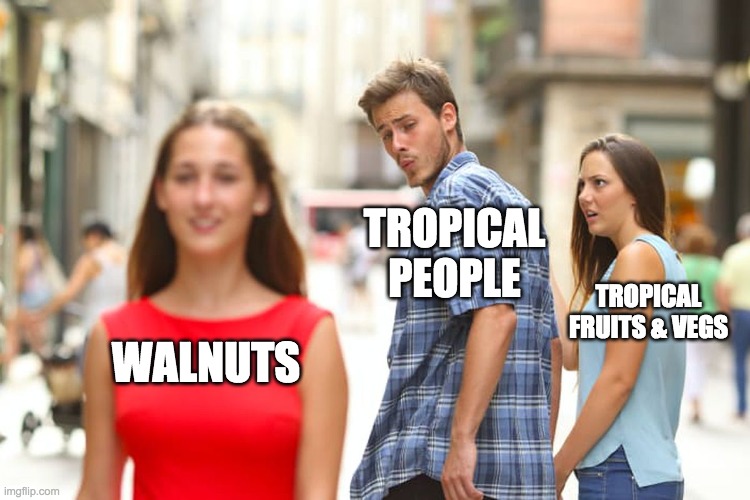 Yet, rest assured, because "very little of global food is transported by air" – as this graph shows.
Most of our food is still transported via maritime and road transportation. And according to World Shipping Council, maritime shipping is "the world's most carbon-efficient form of transporting goods – far more efficient than road or air transport", and that the industry is still continuing to seek "further improvements on the fuel efficiency and carbon footprint" of its fleets.
Are we supposed to be happy now? Not quite. Because "most carbon-efficient" does not mean carbon-neutral, or without other significant environmental impacts.
Massive oil spills and their disastrous consequences are much talked about – because they create such dramatic effects and images all of a sudden. We talk less about ballast water or oily bilge water, atmospheric pollution caused by the exhaust gases from ships, wildlife collisions, yet they happen almost on a regular basis and with no less significant impact than an oil spill.
So, what are we going to do now? Are we going to give up on our beloved cup of morning coffee, or cup of afternoon tea when living in Europe? Or a chocolate weekly treat? Probably no.
What are better supply options that we have here? There are 2 plausible ways: either we continue to import exotic products but using zero-emission transportation, or we plant our own exotic ingredients right where we are, using less-energy demanding techniques.
Let's examine these 2 options.
Option #1: Transportation using zero-emission ancient technique – sailing boats
The revival of sailing boats is no longer just a theory. For example, Silo, a zero-waste restaurant in London, has their exotic products transported by the sailing company Fairtransport. These types of contracts between business owners and customers who care about reducing their offers' carbon footprint and sailing companies with rich sailing experiences are increasing in numbers – in England, Germany and France.
Low-Tech magazine writes an excellent, complete article "How to design a sailing ship for the 21st century?" on sailing boats as a low-carbon alternative, and how we can apply what our forefathers learned in a long 4000-year history into our modern shipping fleets, which I wholeheartedly recommend you to read.
Option #2: Grow exotic plants in temperate climate using renewable heat sources
Greenhouses
Greenhouses – or hothouses – have become a common alternative in a temperate climate to farm. The initial idea is interesting – monitoring heat in order to grow plants that require a sufficiently hot environment to flower and to bear fruits. The problem is that our current greenhouse model is mostly dependent on fossil fuels. According to the FAO, plants grown in heated greenhouses demand 10 to 20 times more energy than those of the same plants grown in open fields.
Below is an image of the sea of plastic greenhouses seen from the sky in Almeria, Spain. What we don't see are the degradation of the soil and the miserable lives of immigrant workers inside.

As explained in a previous article, it makes little sense to convert solar energy to electricity then to heat. If we keep the interesting initial idea of greenhouse, but improve its usage by directly generating heat from different renewable heat sources such as solar or geothermal energy, we might arrive at a better alternative.
Greenhouses using Thermal mass or Heat sink
This technique requires any material that stores thermal energy – such as water, clay bricks, natural rocks, and stone, etc. It is easy to install, and could be used to extend the growing season.
Greenhouses using Geothermal energy
We explain the main principle of geothermal heat source here in a previous article – where we harness the earth's constant temperature for heating during winter and cooling during summer. This of course can also be applied to agricultural greenhouses.
Greenhouses using Compost heater
Another technique is to create a pile of compost – though, the pile must contain at least 8,000 liters of biomass to maintain a temperature during the winter – to generate heat thanks to the bacteria breaking down organic material and giving off waste heat.
Yet, in case greenhouses are not your cup of tea – due to complicated insect management (how to get bees coming in to pollinate flowers, how to control pests from developing due to the constant high-temperature/high-humidity environment…), there exists another non-greenhouse way to grow "exotic" plants.
Fruit walls
Low-Tech magazine again has explained this long-lost concept very well in this article "Fruit Walls: Urban Farming in the 1600s", where we build walls next to warm-loving fruit trees – these walls then will absorb the sun's heat and distribute back to these trees, which helps the ripening process.
***
If there should be some conclusion, I would suggest several actions regarding these "exotic" flavors that have become staples in our daily life:
Don't buy fruits traveled by air, and try to tell this to people around you. You can check the label, normally they would inform you in case the fruits were transported by air. If not, as a rule of thumb, don't buy fruits that have short life span and not grown locally (mangos & pine apples for Europeans, berries for East Asians etc.)

Don't take your cup of coffee, or tea, or the banana, sugar or pepper for granted. Do understand that these staples have traveled a long way for you to enjoy.

Do understand that eating seasonal and local is the most sustainable act you can do to reduce your carbon footprint – before we really find a way to scale up shipping by sail or to revive the fruit wall technique.

Do a challenge of no coffee, or no banana, or no chocolate, or no sugar cane sugar… for a week from time to time, just for the fun of it, and to see if it's possible to eventually skip or reduce these products for a longer term. When one constraint is introduced, several new alternatives will show up. You'll probably find new comfort in more local food and drinks.
---

If you want to read further on this topic:
To combat food waste: let's take a look at our fridge
Our growing addiction to energy: what could be the remedy?